Eco-Design
Because eco-design is profitable for 28 companies out of 30 (UCM source, 2012)…
Because our impact on earth is not harmless..
… and because we can be an actor for sustainable development, eco-design can allow our economy to develop sustainably and in full harmony with our resources and our environment.
With the latest softwares that calculate your new product's carbon footprint, we can here make a comprehensive study into the product's life cycle, from raw materials extraction (renewable or based on recycled materials) to its revalorization including its production, its transport and its use :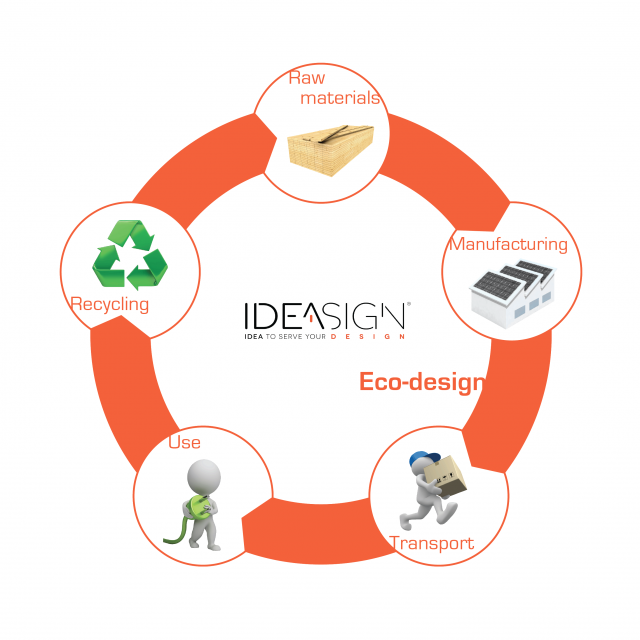 For each step taken by a company, what are the characteristics and the benefits :
Raw materials :
Sustainable resource
Recycled material
Natural dyes
Origin (distance and means of transport)
Conformity to the current or future regulations
...
Manufacturing :
Choosing an eco-friendly subcontractor
Waste reduction and waste enhancement
Green processing, latest equipment
Energy optimisation, more control on energy costs
Water savings
...
Transport :
Designing smaller and lighter products
Eco-friendly packaging (reuse)
Logistic optimization (distances, loading optimization)
Transport type (railroad, river, sea, Euro V truck, electric and hybrid transportation)
Recycling used products, wrappings,…
...
Use :
Less energy-hungry products
Life quality improvement (noise nuisance reduction)
Waste reduction
Life expectancy of the product to suit the user's needs
...
Recycling :
Production of a new material (identical or different) from the product's substance
Reuse of some product's components to create a new one
Biological valorisation : composting or methanisation
Energy valorization (zero CO2 emissions when the raw material comes from a sustainable resource)
No depollution needed before its valorization (cost reduction)
...
Eco-design is indisputably a valuable asset to a company in terms of competitiveness and image!
An eco-design product allows a company to differentiate from others and make profitable use of each step in the product's life cycle.
Don't hesitate to ask for more information about this service.
Partners
Follow us
Wallpaper